Whether it's relaxing with your favorite beverage after a great round or a casual lunch with friends, Legends Grill at Timber Creek is the place to meet. Enjoy our natural Timber Creek surroundings and classic atmosphere.
Legends Grill is open daily from 11 AM until 30 minutes after sunset.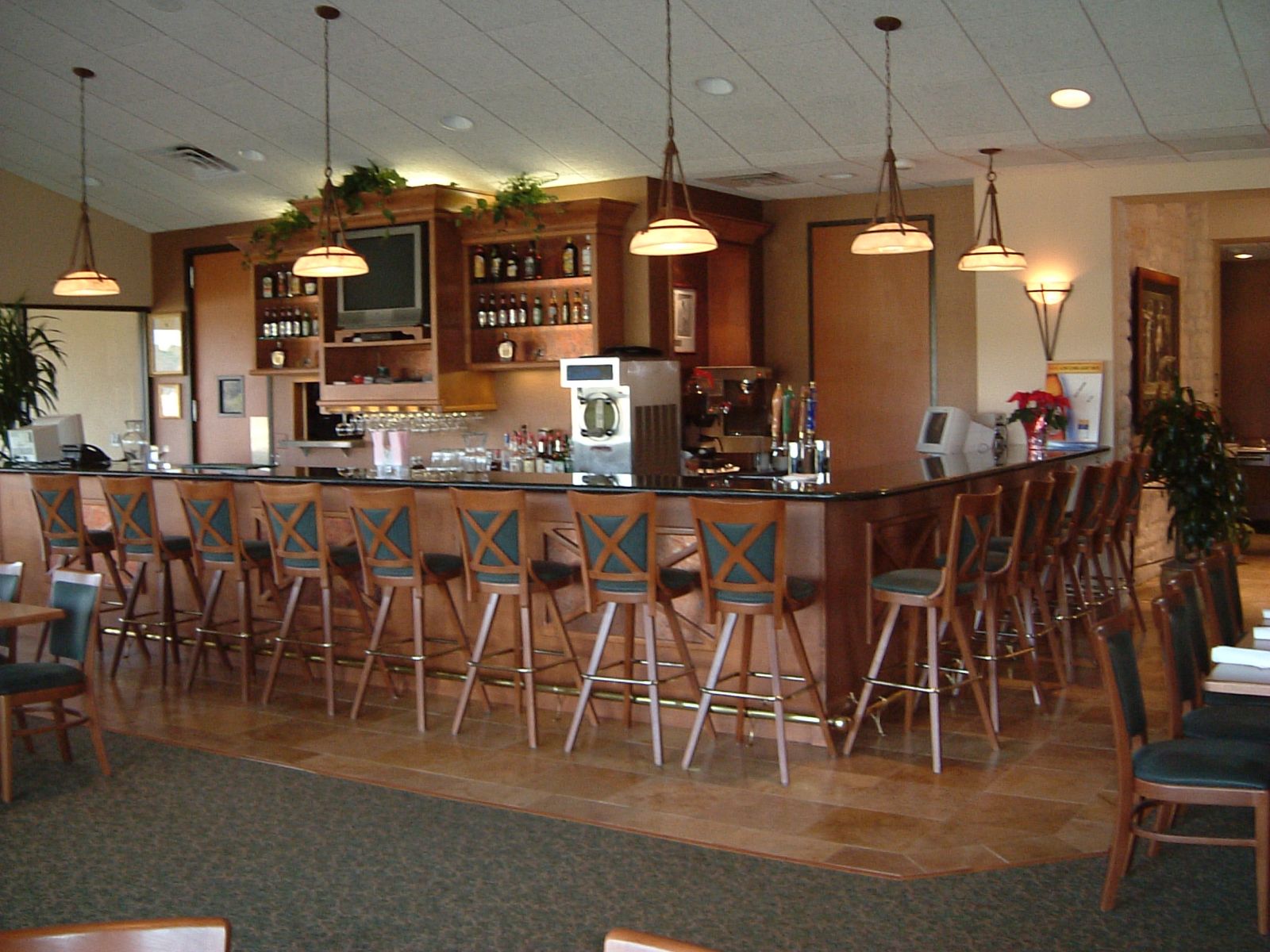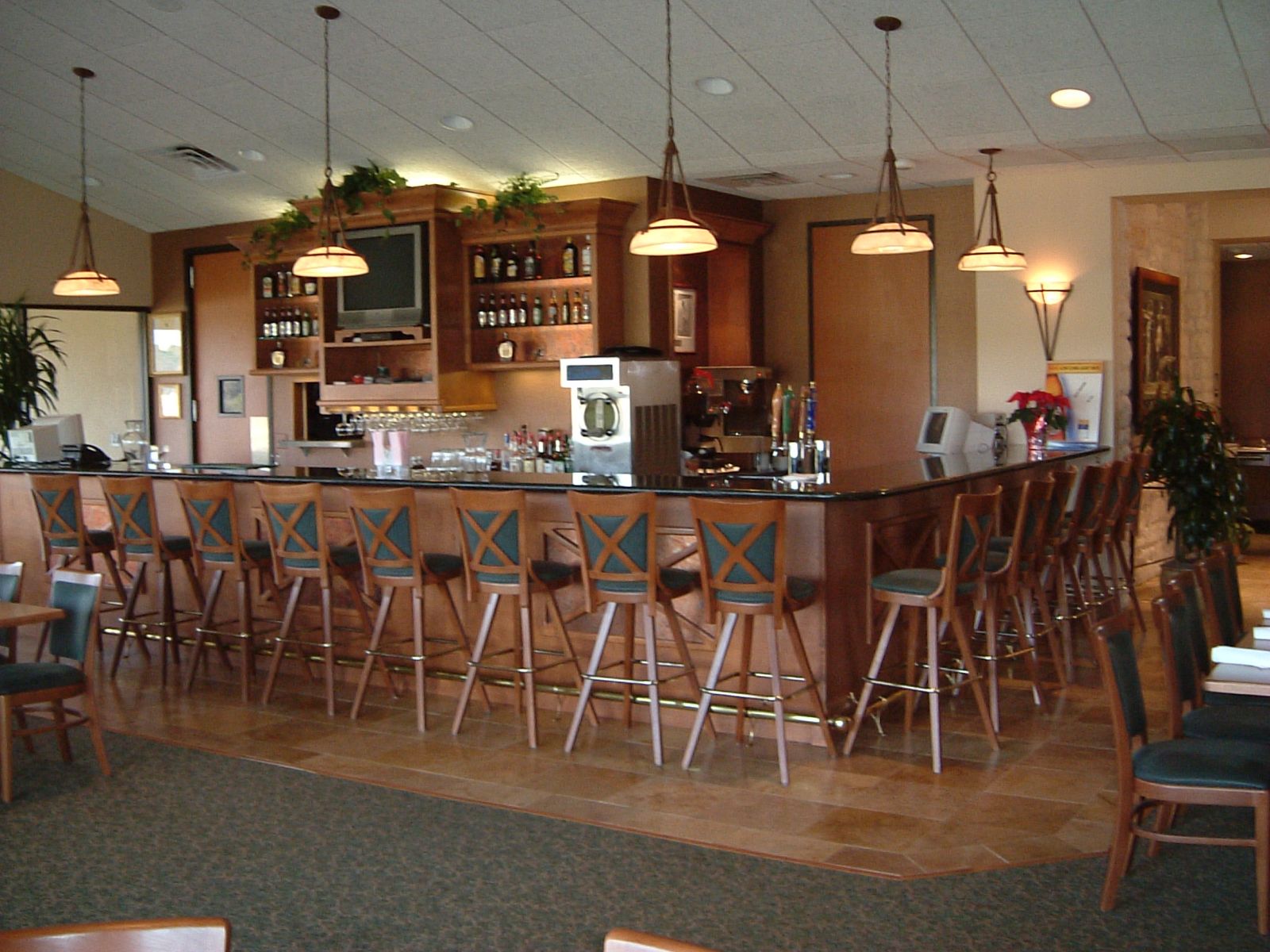 Join us for Weekly Specials!
Monday – Burger and Brew: Timber Creek Burger the way you like it and a 16 oz draft beer for $8.99.
Wednesday – Big Beer Day: Enjoy a 22oz draft beer for the price of a 16oz.
Friday – Legends Grill Happy Hour: 3 – 6 PM
1/2 price appetizers
$4.00 well drinks
$2.50 domestic bottles
$3.50 draft beers
Now serving St Arnold's, Michelob Ultra, Shiner Bock, Dos Equis and Sam Adams Lager on draft!
Legends Grill at Timber Creek
The bar & grill is the perfect way to end your round at Timber Creek. Unwind with your favorite beverage from our fully stocked bar while you relax enjoying the natural surroundings. The bar & grill is open daily from 8:00am to 30 minutes after sunset. Join us for Happy Hour every Friday from 4 to 6. Enjoy complimentary Hors d' oeuvres, $2.00 Draft Beer, and $2.50 Well Drinks.
Legends Grill at Timber Creek Menu
Stuffed Jalapenos | 8.75
Four jalapenos stuffed with crabmeat and crawfish tails, seasoned in bread crumbs and spices, deep fried golden brown, served with a side of ranch.
Nachos El Grande | 9.95
Tortilla chips covered with queso, pico de gallo and jalapenos. Topped with your choice of grilled chicken, chopped beef or a combination of both, served with salsa and sour cream.
Darryl's "Almost Famous" Boudain Balls | 7.25
Five large homemade Boudain balls, served with French fries and spicy chipotle sauce.
Chicken Tender Basket | 7.25
Four chicken tender strips, served with French fries and your choice of ranch or BBQ sauce.
Fried Shrimp Basket | 8.50
Seven fresh fried shrimp, served with French fries and cocktail sauce.
Bacon-Wrapped Shrimp | 8.75
Five Gulf Coast shrimp, stuffed with jalapenos, wrapped in bacon and grilled to perfection.
Southwest Chipotle Quesadillas | 8.75
Your choice of sirloin beef or grilled chicken, cheddar jack cheese and fresh pico de gallo, served with salsa and sour cream.
Boneless or Bone-In Wings | 7.75
Your choice of boneless or bone-in wings, fried, basted in honey BBQ, mango or habanero or buffalo sauce. Served with your choice of ranch or bleu cheese dressing.
Pedro's Tacos
 

| 8.95
Two tacos of the same kind, served with fresh salsa and tortilla chips.
Grilled Sirloin Beef Tacos    Chipotle Shrimp Tacos    Veggie Tacos    Yucatan Grilled Fish Tacos    Grilled Chicken Tacos
Burgers & Sandwiches
All sandwiches are served with your choice of fries, baked potato salad or green apple coleslaw. Substitute fruit, side salad or onion rings for $1.00.
Build Your Own Timber Creek Burger | 9.25
An 8-oz. Angus beef patty, cooked and seasoned the way you like it. Pick three of the following toppings at no additional charge: bacon, mushrooms, avocado, American cheese, Swiss cheese, pepper jack cheese, blue cheese crumbles.
5m Avenue Patty Melt | 8.75
An 8-oz. Angus beef patty, grilled and served with caramelized onions, sauteed mushrooms and melted cheddar, served on toasted rye bread.
Grilled Reuben on Rye | 8.50
Grilled hot pastrami and sauerkraut with Swiss cheese and thousand island dressing, served on toasted rye bread.
Big Bertha Bacon Sandwich | 8.50
Thick Applewood smoked bacon, piled high, with two slices of American cheese, lettuce and tomato, served on Texas toast.
Galveston Shrimp Wrap | 8.75
A chipotle tortilla with fresh fried jumbo shrimp, tomato, lettuce, avocado, bacon and green apple coleslaw.
Grilled Chicken Wrap | 8.95
An herb wrap with grilled chicken, Kalamata olives, spring mix, tomatoes and feta vinaigrette.
Blackened Chicken Wrap | 8.75
Blackened chicken breast, served in a chipotle wrap with lettuce, tomato, jack cheese and homemade chipotle mayo.
Monterrey Grilled Chicken | 8.75
Marinated grilled chicken breast, topped with sweet roasted red peppers, avocado, bacon and melted jack cheese, all on a toasted wheat bun.
Texas Club Sandwich | 8.75
Sliced ham, mesquite smoked turkey, applewood smoked bacon and avocado, piled high with lettuce, tomatoes, Swiss and American cheese.
Pulled Pork Sandwich | 9.25
Smoked pulled pork, topped with broccoli slaw, served on a sweet bun.
Soups & Salads
Your Choice of Dressings:
Buttermilk Ranch, Thousand Island, Caesar, Balsamic Vinaigrette, Italian, Blue Cheese or Feta Vinaigrette.
Green Apple Chicken Salad | 10.95
A mixture of spring mix and romaine lettuce, grilled chicken, fresh green apples, dried cranberries, onions, pecans, tomatoes and blue cheese crumbles, with Balsamic vinaigrette.
Chopped Steak Salad | 11.95
A mixture of spring mix and romaine lettuce, chopped steak, fresh pico de gallo and avocado.
Baked Potato Soup | 4.95
Trio Salad | 9.25
A trio of tuna salad, chicken salad and a cup of fresh seasoned fruit, served over mixed greens with sliced tomato and crackers.
Chicken Caesar Salad | 9.75
Fresh romaine lettuce, tossed in Caesar dressing with your choice of grilled or blackened chicken breast.
Chicken & Andouille Sausage Gumbo | 5.95
About
 

the

 

Course

Carved out in the heavy woods of Friendswood, TX, Timber Creek Golf Club will give you a sensation unlike anywhere else. Our 27-hole golf facility, located on the southern outskirts of Houston, features lush fairways lined with tall oaks and pines. Visit us today!
4554 FM 2351
Friendswood, TX 77546